Parvaah
Parvaah, the Sanskrit word meaning care, is the social initiative of K J Somaiya College of Engineering.
Under this initiative the students have taken up various critical social issues that needed to be addressed at large. The various issues that have been taken up under Parvaah so far are: Women's Safety, Child Care, Beautification of the Ghatkopar Station and Support for the LGBTQ Community.
Illuminati
The literary Club of K J Somaiya College of Engineering, Illuminati, is born of the yearning for knowledge in all its forms.
It encourages ideas like free speech and brings together people with an intellectual bend of mind. Illuminati is at the core of all Literary Events held in the college. It organizes activities such as Illuminati meets, debates and discourse on various social, cultural and topics of national interest.
Insignia
Since 2016, Insignia is the art team of K J Somaiya College of Engineering, Vidyavihar. The team members create decor such as paintings, hangings and 3-D art pieces for the college festivals
So far the team has created art decor for events such as Flashmob, Freshers Eve, Abhiyantriki, Parvaah, Skream, Symphony, Naari and Farewell. They have also collaborated with various organisations like TedxSVV, Makermela, NGOs and also helped out Parvaah for the beautification of Ghatkopar Railway Station.
Rhapsody
Since 2017, Rhapsody is the official drama team of K J Somaiya College of Engineering which intends to bring about a personal as well as a social change through mediums of theatre and film.
Rhapsody has boldly taken up topics like rights for LGBTQ, plight of farmers, ever-changing role of media ,women empowerment and the state of education system in India. Rhapsody has bagged several accolades at several youth theatre festivals and national level short film festivals.
Gyrations
Since 2005, Team Gyrations is the official dance team of K J Somaiya College of Engineering and participates in various intercollege dance competitions.
The students are exposed to the best of the modern dance form. They also tend to learn about the team work, leadership qualities and the value of hard work in their lives. The team has won many accolades and the biggest win was at the national level in BITS Pilani, Hyderabad.
Shutterbugs
Since 2017, Shutterbugs is a group of passionate students of K J Somaiya College of Engineering who love to explore the world through their lenses.
Bugs is a platform for photographers in KJSCE - professional and amateur - to improve their photography skills, providing a well-connected peer
Yugandhar
Since 2016, Team Yugandhar ('ever-lasting' era of Marathi Drama) was formed by a few theatres enthusiastic with a motive of creating awareness of theatre plays formed.
As a team, students participate in theatre drama competitions. The theatre drama team members get a chance to explore the theatre world and learn nitty-gritty of theatre world. Students get an opportunity not only to learn about acting but also various aspects like back-stage handling, Music, Script writing, Lights etc. that make a theatre drama complete. This is viewed as a great platform to give hope to society about the society.
Palinoia
Since 2017, Team Palinoia is the official cultural dance group of K J Somaiya College of Engineering. It was formed for celebrating our culture and launching talents higher than ever.
This very idea started off with the ambition of a small group of talented classical dancers, who dreamed to show the world what they can do! There are many more milestones to cover thereby working their way into competitions and performances, trying the best to improve the better to become the best.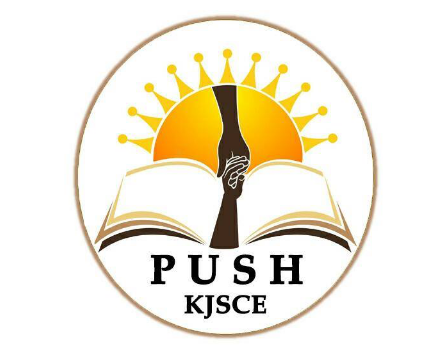 PUSH - KJSCE
( People United for Student's Help )
Formed in 2013, a council comprising faculty, staff and students, that has been initiated with the aim to offer a helping hand to those deserving candidates who are financially weak and are unable to pay their college tuition fees, hence dedicated towards aiding deserving yet underprivileged students in completing their education.
The funds needed are acquired through generous donations from college faculty, staff, alumni, and other donors. It has changed over 65+ students' lives by providing financial help of over 40+ lacs.