Examination Notice
K J Somaiya College of Engineering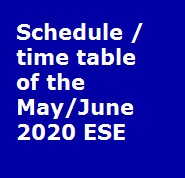 Notice
Attention: All students/Staff/Faculty Members
Subject: Schedule / time table of May/June 2020 ESE
Referring to earlier notification dated 16 April 2020, wherein it was informed to all of you that End Semester Theory, Practical, Oral examination (ESE) cannot be conducted as per schedule declared in academic calendar and the same is postponed till further notice.
An online meeting was called on 24th April 2020 of Examination Committee (EC) and college authorities to discuss about the possibility of announcing new schedule/time table and mode of conduction of ESE.
However looking at uncertainty of lifting lockdown status (partly/fully and duration), it was resolved in the meeting that;
New Schedule / time table of the May/June 2020 ESE cannot be notified at present and shall be notified as soon as any further decision is taken by EC and college authorities in this regard.
The Examination committee and college authorities will take review of the situation from time to time, take into consideration the directives from various apex bodies and will arrive at a decision regarding ESE in due course of time, which will be notified to all the students.
Do not believe in any kind of rumors. Notifications received from the undersigned (mostly via email) should be considered as authentic and final in this regard. Copy of this notification will be displayed on college website as well, for those who do not receive emails from undersigned for some or other reason.
Date: 26/04/2020 Examination In-Charge