Warrior of Change
K J Somaiya College of Engineering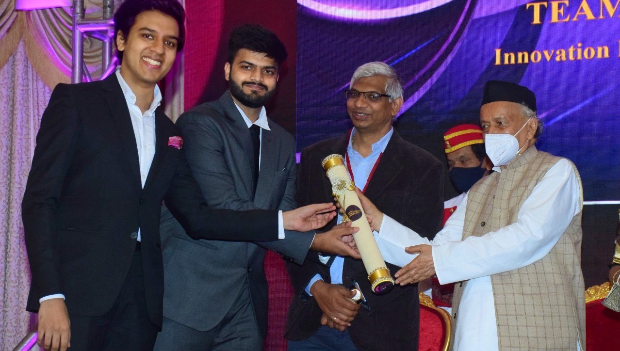 Mobilising Knowledge to Create Impact

The COVID 19 pandemic enveloped all of us in a global health emergency taking a toll on our economy, our healthcare system and our government. It tested the grit and resilience of humanity, challenging our ability to work together as a community in the face of uncertainty. This overwhelming take over on our systems also brought to the fore the interconnectedness of all our lives. Countless numbers of Samaritans and ordinary citizens took initiatives to mitigate the crisis. Students and people across social strata and industries created applications, tweeted for help, made calls and supported frontline workers in their own unique ways.
Our K J Somaiya College of Engineering alumnus, Shubham Pareek, is one of the heroes who played a noteworthy role in helping the Mumbai Municipal Corporation during the critical time of the pandemic. A tech enthusiast with an entrepreneurial mindset and a drive to create impact, Shubham who was already working with the Maharashtra Chief Minister's Office, joined the Mumbai COVID war room to provide his expertise and help assist and advise the leadership regarding issues during such a time of distress. As an individual determined to bring about a difference, Shubham's role allowed him to streamline processes and data flow, coordinate with multiple stakeholders and introduce and execute solutions to fight the pandemic. His contributions in the war room also included helping design a COVID dashboard with projections for data-driven decision making in partnership with McKinsey and Fractal.
A technology expert and enthusiast with a strong educational background in Electronics and Telecommunication Engineering, Shubham was an instrumental asset in Tech Evaluations. Skills learnt during his Bachelor of Technology degree enabled him to evaluate the HMIS systems and apps for COVID load management for Mumbai .Being an essential part of the strategic management force, Shubham also led a team of 90 for demarcating 50,000+ containment zones to curb the COVID spread by data-driven triaging. He also played an significant role in collaboration with Google to make Mumbai the 1st city to have a containment zones layer on Google Maps.
When the government had stretched itself with the exponentially rising cases, Shubham felt that Mumbai was in dire need of a task force that was technologically equipped and aware. As a core member of the war room, Shubham worked collectively with the resources to simplify the tasks and spearhead effective deployment, tracking and optimization of ambulances to manage the caseload.
Moreover, Shubham leveraged his policymaking, planning and management experience as a Chief Minister's Fellow in advising senior leadership and building a strong level of trust amongst the bureaucracy. Through cross-functional team management and data-driven decision making, the entrepreneur strived to tackle challenges and support the government in its fight against the novel virus.
Shubham's proactive involvement and timely response in effectively combating the COVID 19 challenges in the city of Mumbai led to him being honoured as a 'Warrior of Change' at the Impact Creators Award 2021 by His Excellency - Governor of Maharashtra Shri. Bhagat Singh Koshyari Ji and Shri. Abhay Jere, Chief Innovation Officer, Ministry of Education.
An illustrious personality, Shubham is one of our thousands of alumni driving the legacy of Somaiya Vidyavihar University forward. As an institution that strives to nurture students for the service of humanity, Shubham's grit and determination to go above and beyond his capabilities is a matter of great pride for us. His inspiring efforts have set a strong example for young minds alike to make life more meaningful by working with a sense of purpose to build future that opens the doors to endless possibilities.