Second position secured by Team Kainotomia (KJSCE) in AAKRUTI 2021 (organized by SOLIDWORKS)
Nisarg Doshi (TY Mech), Praneel Raghuraman (TY Mech), Yukta Pathak (LY Mech), Prof. A U Karmarkar(Advisor), Dr. M J Pawar (Advisor)
K J Somaiya College of Engineering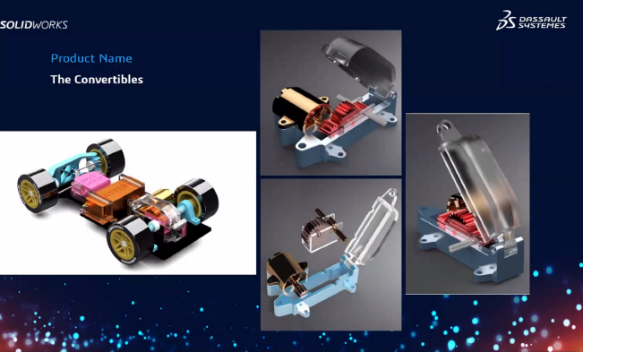 It is indeed a very proud moment for us to announce our achievement in the annual nationwide product design competition held by Dassault Systems, AAKRUTI 2021.
Our team, Team Kainotomia secured the Second Position (joint) out of more than 875 teams from 389 colleges across the nation. We went through multiple rounds of elimination after which we reached the finals, and were successful in demonstrating our product in front of a jury comprising prominent industry leaders.
Out of 4 available themes this year, we chose the theme: Scientific toy design for kids.
We designed and developed a convertible remote-controlled car with an interchangeable gearbox (& gear cartridges) along with different car and truck outer bodies and wheels. This allows children to practically learn concepts like gears & gear trains, speed, torque, and weight, without compromising playability.
This project involved a lot of CAD designing & 3D printing, in-depth market analysis & market viability, costing & finance management, and it was a great learning experience for us.