Team Binary (KJSCE) are among the top 6 finalists of EY Techathon 2 (organized by Ernst & Young Global Limited).
Viraj Patidar (TY IT) and Atharva Patil (TY IT)
K J Somaiya College of Engineering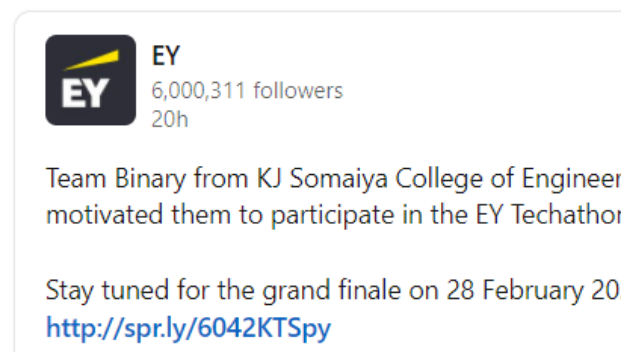 Viraj Patidar and Atharva Patil (Team Binary) are among the top 6 finalists of EY Techathon 2. EY Techathon 2 is the second season of EY's virtual technology innovation challenge which is about using innovative technology to help India grow sustainably.
Out of the four offered challenges this year, Team Binary chose the challenge: "Can you limit green cover depletion?"
They have built a vision analytics solution that can analyze geo-mapped aerial/space photographs and calculate the green cover area to the best possible estimate. The solution is able to calculate, visualize and provide statistics for change in green cover, landcover and air quality over time. A volunteer system is also incorporated in the solution to spread awareness and bring tangible change on the ground level.
The solution developed is in the form of a web app which involved use of geospatial datasets. The quality of analysis and UI enables the end user to distinguish between types of green cover, types of depletion, zoom features for manual inspection, inspect rate of change in graphs and generate time-lapse videos, among other features.
See More
Announcements

See all Announcements