RedShift Racing India 2021-22
K J Somaiya College of Engineering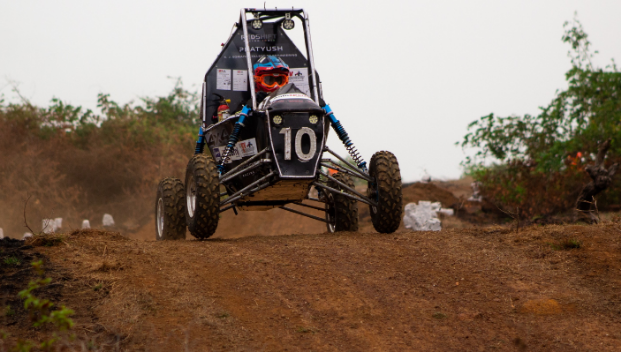 Team Redshift Racing India is the official BAJA SAE team of K.J. Somaiya College of Engineering. We design and fabricate the vehicle from scratch, test it rigorously and race it in competitions against some of the best teams around the globe.
Team RedShift Racing India commenced its 10th racing season with an ALL INDIA RANK #1 OVERALL in the Phase-1 of BAJA SAE India 2021-22 among 150+ national and international teams. We then manufactured our first ever 4X4 (All-Wheel Drive) ATV even during the tough times of Covid-19.
We are proud to announce that our first 4X4 prototype - PRATYUSH has performed exceptionally well in both the national level competitions, BAJA SAE INDIA 2021-22 and MEGA ATV Championship 2022. The Team competed against 150+ teams from across the country and has achieved laurels like never before. We secured an Overall AIR 8 at BAJA SAE INDIA held in Indore.
We are the only team to complete the 4 hour endurance race at both the competitions without a single failure in the vehicle. At MEGA ATV Championship, Goa , we conquered the 4 hours intense night endurance race by completing 15 laps and were crowned as "THE CHAMPIONS". We also secured a podium finish #3 at the Flat Dirt race. We were crowned as the "Runners Up" of the MEGA ATV Championship for finishing #2 Overall amongst 100 teams across the country.
We have been awarded a total prize money of Rs.80,000/-
ACHIEVEMENTS :-
BAJA SAE INDIA (150+ teams):-
Preliminary Round - AIR 1
Virtual Maneuverability - AIR 8
Virtual Suspension and Traction - AIR 11
Virtual All Terrain Performance - AIR 12
Overall Virtual Dynamics - AIR 10
Validation Event - AIR 5
Acceleration Event (Physical) - AIR 8
4 Hour Endurance Race (Physical) - AIR 8
Overall - AIR 8
MEGA ATV Championship (100 teams):-
4 Hour Night Endurance Race - AIR 1
Flat Dirt Race - AIR 3
Armageddon (Suspension and Traction) - AIR 5
Overall - AIR 2